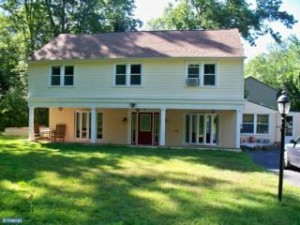 In Pennsylvania and PA suburbs, vinyl siding is very common on all homes.  Vinyl siding is plastic exterior cladding for a house, used for decoration, weatherproofing and as  as an alternative to wood siding or stucco.   It is an engineered product, manufactured primarily from polyvinyl chloride, or PVC, resin, giving vinyl siding its name.
Approximately 80 percent of its weight is PVC resin, with the remaining 20 percent being composed of other ingredients that establish color, opacity, gloss, impact resistance, flexibility, and durability.
Today, vinyl siding is manufactured by coextrusion. Two layers of PVC are laid down in a continuous extrusion process; the top layer is weatherable capstock, which comprises about a third of the siding thickness.  The siding today comes in hundreds of colors, textures, styles and is more environmentally friendly and affordable compared to past years.
We are a CertainTeed vinyl siding installer and offer many of their products which include: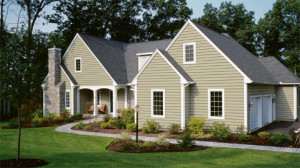 Cedar Impression Shake:  Provides a rustic look of natural cedar siding without the high cost and maintenance of wood with Cedar Impressions® polymer shakes and shingles. Available in a wide choice of color and style combinations, Cedar Impressions siding captures the look of freshly sawn wood, the distinctive patterns of randomly sized boards, and a finely crafted finish appearance.
Vinyl Siding Collection:  CertainTeed's Vinyl Siding Collection provides unlimited design possibilities for every taste and budget. Our industry-leading spectrum of colors includes deep rich shades and semi-transparent stain blends. With it's exceptional performance features and outstanding warranty protection, it's no wonder that CertainTeed is American's most popular siding.
House Wrap:  Before the siding goes on, weather protection needs to be built in. CertainTeed's CertaWrap™ Weather Resistant Barrier provides an added layer of protection against air and moisture damage. It's part of the complete CertaWall Weather Deterrence System™ – an advantage worth building into every home.
Call for Free Estimate and Price Quote on Vinyl Siding installation.  We are a certified vinyl siding installer.  
Bucks: (215) 322-3600
Montco: (215) 887-1855
MainLine: (610) 492-7373
Phila : (215) 676-4100