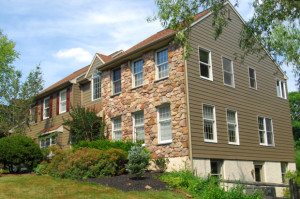 An innovative alternative to traditional wood siding is Fiber Cement  – CertainTeed's brand WeatherBoards™ Fiber Cement siding delivers the beauty of cedar shakes in a highly durable, low-maintenance design that won't peel, rot or warp.  Choose from more than 20 prefinished premium color and stains, or select primed for unlimited color flexibility.
Fiber cement siding is available in a range of profiles, textures, and colors.  Fiber cement siding offers a wood-like appearance with greater durability than most other siding products because it can hold paint for several years longer than conventional wood siding. It is produced from a mixture of cement, sand, and cellulosic fibers.
Design Versatility. Fiber cement products are available in a variety of textures, profiles, and colors matching your design requirements. One option is horizontal lap siding, which includes profiles such as Dutch, beaded, and traditional. Shaped fiber cement siding is available as shingles, half rounds, octagons, and random square. Vertical siding options include a traditional stucco appearance, smooth, or cedar. Fiber cement soffits are also available in smooth and cedar textures, both of which can be vented. Matching low maintenance composite trim materials can complete the architectural design.
Dimensional tolerances and stability. This product is manufactured under factory specifications and guidelines, providing consistent quality and dimensional stability. Products do not warp, buckle, or fade, in contrast to vinyl siding products, and hold a class 1 (A) Fire Rating.
Warranty. Fiber cement siding holds paint well, with some products warrantied to hold paint for up to twenty-five years, though on average 7 to 15 years can be expected. Transferable product warranties can last as long as fifty years depending on the degree of "pre-finish" applied in the factory.
Painting. Most people buy fiber cement siding that has been factory primed and sealed or is fully prefinished in the factory. Factory priming protects the product from moisture penetration on the job site and once the product is installed. Some contractors choose to buy the product raw and then prime and finish paint it themselves, although this is not recommended by manufacturers and may affect the warranty.
Installed cost. The total installed cost (including materials, installation, and paint or stain) for fiber cement on a new home is about 75% less than natural stone, 35% less than cedar, 25% less than wood siding.
Sustainability.  Fiber cement siding offers additional advantages that make it a green choice for cladding.
Durability. Fiber cement siding will not rot, is capable of withstanding damaging effects of salt spray and ultraviolet rays, and cannot be penetrated by birds or insects. Once installed, the product stands up to bumps and direct impacts, unlike some other siding materials. Fiber cement siding does not become brittle in freezing conditions or melt in the presence of heat sources such as barbeque grills, unlike vinyl siding.
Fiber Cement Siding comes in many shapes, styles, sizes and pre-finished colors.  Please call us for  a free estimate on any siding project.