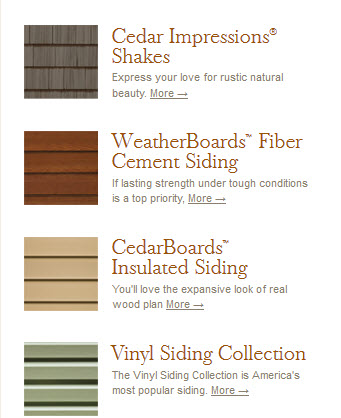 We are one of the area's top Vinyl Siding contractors.  Best Gutter and Roofing has been working with siding since 1986.   We've installed siding on 1000′s of homes and commercial properties.  We pride ourselves on delivering quality products, a high level of service, and at a competitive price.  We offer free estimates and price quotes on any vinyl siding jobs.
CertainTeed Certified.   We are an authorized Certain Teed installer.  CertainTeed has the largest selection of siding and trim products in all price ranges.  The selections of colors, textures, insulation properties, green products are vast and they have one of the best warranties in the business.
Siding and Fiber Cement Warranty.  CertainTeed offers a lifetime guarantee on their products.
Siding and Fiber Cement Products.  We offer a complete line of siding products including traditional horizontal siding options including – insulated siding, hand split shake, half round, dutch lap smooth, cedar impressions, board batten, wood grain and beaded.  As stated, the color options are many and the maintenance free component makes siding a great options.
Complete Exterior Siding Products.  Siding services include the following:
Siding
Trim
Sheathing
Decking and Railing
Windows
Installation.  Our team of certified and experienced installers make sure that the installation is top notch, professional and timely.  Our crew only installs the highest quality products to insure that our customers have the safest, most reliable siding possible. Our mechanics are certified by the manufacturer, CertainTeed, to insure that your house has the siding installed properly and securely.
Our Siding Services Include:
New Siding Installations

All Colors and Styles Available
Matching Trim and Color Selections
Removal of Old Siding and Trim (no cost)

Siding Repairs of all Types
Call for a Free Price Quote on Any Vinyl Siding or Fiber Cement Siding Job