Best Gutter and Roofing Service is your go-to company for gutter repair. Since inception we've been repairing roofs and rain gutter systems for our customers in Montgomery, Bucks and Philadelphia counties. We provide service warranties on all our repairs and new roof and gutter installations.  Our mechanics are expert gutter repair craftsmen and quality of service is very high.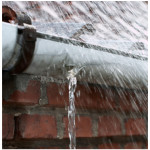 Clogged Gutters and Downspouts:  Clogged gutters and downspouts are the most common of all gutter repairs.  If your rain gutter system is clogged, call us and we will be out within a few hours to clear and inspect your home or business.  Clogged gutters can result in an expensive repair if not resolved quickly.  Left untended, gutters and downspouts get so clogged with debris that they're rendered useless. The excess weight of leaves, twigs, and standing water can also make them sag and pull away from the fascia.  Clean gutters 1-4 times per year, and more if you have a lot of trees nearby.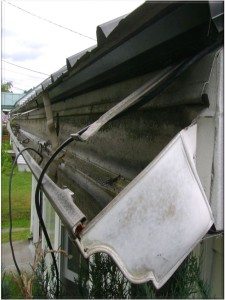 Sagging gutters:  Gutters often pull away from the house from age, weight of snow and rainfall due to clogged or slow moving gutters.  When gutters pull away it's usually a problem with the hangers, the hardware that secures the gutters to the fascia. Hangers may deteriorate over time, the fasteners may have backed out of the wood, or they're spaced too far apart to support the weight of full gutters.  We guarantee our labor and materials and the lowest pricing on gutter repairs.
Leaks and holes:  Leaky gutter joints and holes result over time.  Standing water because of a poor pitch or debris erodes the gutter system and results in holes and weak spots. Left unattended leaks and holes will worsen and water flow may leak into the home or damage the foundation.
Improperly pitched gutters:  Over time the pitch or slope of the rain gutter system can change due to excessive weight from debris, water build up from slow drainage, etc.  Gutters need to be pitched toward the downspouts for the water to flow properly. You want at least a quarter inch of slope for every 10 feet. If your gutters are out of pitch, water will drain slowly or not at all and ultimately ruin the gutter system.
Downspouts draining too close to the foundation:  Downspouts need to extend several feet from the house, or they'll dump right into the basement. Gutter extensions attached to the bottom of the downspout will discharge water well beyond the foundation.
Get Gutter Repair Estimates 24×7.  Call for Free Price Quote.
After all, good schools, recreation, the cost of living, quiet neighborhoods are so momentous. But, health is only momentous. With the market flooded with variant online pharmacies selling various drugs, buying drugs from th WEB is no longer a problem for most of us. Remedies, no doubts, is going to improve your existence. Have a question about Viagra and "sildenafil online"? When you purchase medicaments like Viagra you should know about "sildenafil citrate online". Matters, like "sildenafil price", are connected varied types of health problems. Unhealthy lifestyle choices, stress, anxiety, and some medicines can reduce your desire. Depression affects all facets of breath including sexual health. The most common dangerous side effects of such drugs like Viagra is stuffy or runny nose. Tell local soundness care provider if you have any dangerous side effect that bothers you. Sure thing, online apothecary can simply help you for solving your all personal troubles.