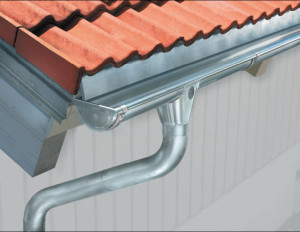 The most common metal gutters systems include:  aluminum, galvanized steel and copper.
Aluminum is the most popular metal gutter on the market.  It's inexpensive and durable, and easy to work with.  Unlike steel, aluminum will not rust and is available in a wide range of colors. Gutter installers tend to quote a price (which includes installation) at a "per linear foot" price; although costs for an aluminum system will vary, homeowners may expect somewhere around $3-6 per linear foot.  At Best Gutter and Roofing we guarantee the lowest price on aluminum gutter installation.
Steel gutter systems are usually galvanized, although stainless steel options exist as well.  Galvanized steel gutters will rust after 20-25 years, but steel is strong and durable, making it a popular option for regions that experience extreme weather, heavy rains, and snow. Steel is slightly more expensive than aluminum; with prices averaging around $8-10 per linear foot. Stainless steel, which doesn't rust, sells for upwards of $20 per linear foot.  We guarantee the lowest installed price on metal gutters.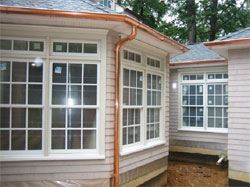 Copper is one of the more durable metal gutter system options. Copper brings a certain aesthetic to a home's facade, appealing to property owners looking to customize their home. Copper is at the high-end of the metal gutter pricing market, selling for anywhere from $12-25 per linear foot. Homeowners who are interested in a copper gutter system should consider the "patina" aspect of copper, which gradually ages and changes color with exposure to the elements. Copper gutter system stay shiny for the first month or two and then as it oxidizes the colors will change brown, dark brown, purple, and eventually a greenish color.  Call for the lowest copper rain gutter and downspout prices.
Best Gutter installs metal gutter rain systems throughout the metro Philadelphia suburbs.  Call for a free estimate.