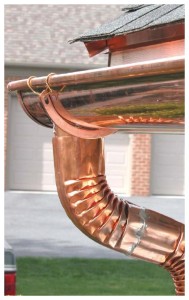 The Half-Round gutter is commonly found on older homes made of stone or brick. It's not unusual for these types of homes to have slate, cedar shake or Spanish tiled roofs.
Seamless half-round gutters offer a classic, stylish architectural detail for your home. They are available galvanized steel or copper. If you're looking to add style and definition our half-round systems are the epitome of style, aesthetics and durability!
Our Half Round Gutters offer:
– A variety of hanger styles best suited for roof, fascia style and personal preference
– Available in 5″ &  6" half round sizes
Finishes include either Painted Steel or Copper.