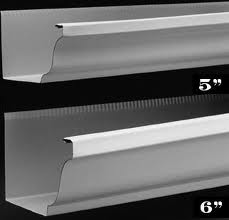 5″ rain gutters are the most common gutter sizes used on residential homes in Pennsylvania.   Probably 85% of all homes use a 5 inch gutter.  The same is true for small residential businesses.  5″ gutters will generally handle any amount of water and can drain off an entire roof.
Depending upon the pitch of the roof and the volume of water falling in 5-minute intervals – we can calculate whether a 5″ or 6″ is best for your home.  5 inch gutters are generally paired with 2×3 inch down spouts, however, the larger 3"x4" down spouts can be added in areas that require more water drainage.
5″ rain gutters and downspouts are vailable in over 20 pre-finished colors, vinyl and aluminum gutters are relatively low maintenance and the amount of accessories available make it one of the easiest gutter systems to install.
Best Gutter installation provides expert installation of 5 inch gutter systems with hidden hangers that need to be hung properly and secured under the drip edge.  This will make sure that the job is done properly and water flow is toward the downspout and doesn't collect at the end cap. If  the water collects at the end cap, you will not get proper drainage and your gutters will be more likely to over flow and cause foundation damage.